I don't believe in New Year's resolutions, but I do believe in goals — and one of my goals for 2020 is to read a little bit every day. I also believe in elevating the voices of women, which is why this post is all about books by women authors you should read in 2020.
Even after all these years, women authors still have it so much harder than men. An analysis of over two million book titles found that titles written by women were priced an average of 45% lower than those written by men. As of 2010, men were more likely to be published by Random House, Penguin and The New Yorker, and more likely to be reviewed in The NYT Book Review.
So, what's a girl to do if she wants this to change? Buy books by female authors of course! You can start with this list of 12 books I think you should read in 2020 (that's one per month!) — and why I think you should read them.
1. Educated by Tara Westover
The first time Tara Westover set foot in a classroom, she was 17. So many of us take our education for granted, yet Tara had to fight for hers. Born to survivalists, she fought hard to learn enough mathematics and history to be admitted to Brigham-Young University, where she learned about events like the Holocaust for the first time.
Why you should read it: My mom recommended this book to me, so I might be biased, but frankly, I think everyone should read it — especially if you had the privileges of going to public school or attending college. It adds some much-needed perspective to a time in our lives that most of us complained about, and will make you grateful for your 13+ years of formalized education.
2. P.S. I Still Love You
In the sequel to To All The Boys I've Loved Before, Lara Jean has to navigate a relationship for the first time — which, if you remember what that feels like, is hard AF! — all while figuring out her feelings for a new potential love interest from her middle school camp.
Why you should read it: P.S. I Love You is becoming a movie on Netflix that's getting released next month! As someone who has rewatched TATB 10+ times, I can't wait to read this book — or check out the movie. Hello again, Noah Centineo….
3. Unpregnant by Jenni Hendriks and Ted Caplan
Veronica is at the top of her class when she finds herself unexpectedly pregnant — in Texas. When she doesn't know where else to turn, she reaches out to her ex-BFF Bailey, and they embark on a road trip to the nearest abortion clinic. It's a tale about fierce female friendship and reproductive rights, wrapped up in a neat pink package!
Why you should read it: Like my previous pick, Unpregnant is also becoming a movie in 2020 — one I can't wait to watch. However, it's also extremely relevant to the world we live in today, where reproductive rights are becoming scarcer and scarcer. As someone who lives in Ohio, where a Heartbeat Bill has passed and abortion clinics are few and far between, I can relate to the fear that the novel's protagonist must have gone through.
4. Girl, Stop Apologizing by Rachel Hollis
NYT bestselling author Rachel Hollis is back with Girl, Stop Apologizing! This book is all about embracing your wildest dreams — and turning them into reality. Rachel examines the lies that hold women back from becoming "successful" (whatever successful means to them) and discusses how she overcame them in her own personal life and career. If you identify as a #girlboss or femtrepreneur, this book is a must-read!
Why you should read it: Speaking as someone who's already read the book, I can honestly say that Rachel is a phenomenally funny, likable and relateable woman. She talks about her five to thrive, the five things she does every day to stay happy, healthy and sane, as well as other practical advice you can use in your life — without coming across like an unrealistic "wellness guru" or Insta-mommy. It's the business-slash-self-help book you didn't know you needed!
5. Becoming by Michelle Obama
Who doesn't love First Lady Michelle Obama? In Becoming, Michelle tells her story of growing up, marrying a politician and finding her voice to stand up for what she truly believes in. In other words, it's a story about becoming — becoming who she was meant to be, in order to serve the people she was meant to serve.
Why you should read it: Michelle Obama is a living legend and an inspiration to women everywhere. From her tireless championship of women's rights to her fierce-AF arm regimen, Michelle Obama is the woman I want to be when I grow up — and I think it's important to read about our heroes, in order to truly understand who they are and where they come from.
6. She Means Business by Carrie Green
Carrie Green wants to teach you to become a wildly successful entrepreneur — and she means business doing it! All you need these days to start a successful business is a computer and a dream. Carrie had both, and built a successful empire online. Now, she's using her platform to teach you her trade secrets, so you can get into the #girlboss game.
Why you should read it: Because there's no reason you can't slay the entrepreneur game and become wildly successful! If you have an idea, then pick up this book and start turning your big business dreams into reality. There's absolutely nothing stopping you except yourself — and that's one of the things that Carrie is all about: empowering you to get out of your own damn way!
7. Red, White and Royal Blue by Casey McQuiston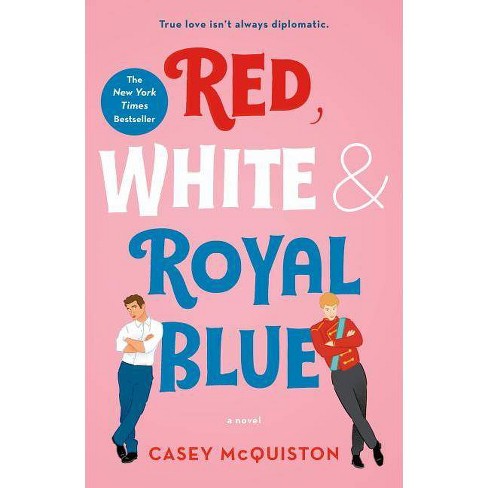 Alex is the President's son — and he's got beef with Prince Henry across the pond. When the press catches wind of their altercation, his millennial golden-boy image falls to pieces. Their handlers stage a truce for damage control…. until their Insta-friendship becomes deeper, and more dangerous, than they ever could have imagined.
Why you should read it: This book won the Goodreads Choice Award in 2019, and for good reason: LGBTQ+ representation is essential, and Casey McQuiston has nailed it! Imagine the internal conflict when two of the world's most powerful guys enter into a secret relationship — or as the jacket describes it, a "whirlwind romance." Those two words alone are enough to entice me into reading this YA masterpiece.
8. Tiny Pretty Things by Sona Charaipotra and Dhonielle Clayton
Free-spirited Gigi just wants to dance — but the very act might kill her. Gigi's problem? The girls at her elite ballet school are willing to do whatever it takes to get to the top, including manipulating and backstabbing until the bitter end.
Why you should read it: I danced all throughout high school, so I'm still a sucker for a good elite ballerina drama. However, in my opinion, any book that's described as Black Swan meets Pretty Little Liars deserves to be read — and that's exactly what I think you should do with this little black book!
9. Anti-Diet by Christy Harrison, RD
Ready for the book to end all diet books? Christy Harrison is a Registered Dietitian who's here to tell you that yes, you can eat whatever you want. And the key to happiness is giving up on your diet, perfectionism and all the pressures of having a body in the modern era.
Why you should read it: I don't know about you, but I'm excited for the new age of "dieting," where the best diet you can go on is one that isn't a diet at all. That's exactly the era I think this newly-released book is ushering in, which is why I'm going to tell everyone and their mother to read it until we live in a world where I no longer need to tweet "IDGAF about your diet, Susan."
10. Dear Girls by Ali Wong
Actress and comedian Ali Wong's heartfelt and hilarious letters to her daughters made it to print in her book Dear Girls. The letters cover everything Ali thinks they need to know, from making it as a working woman to how she quote-unquote "trapped" their dad into marriage. Though addressed to her daughters, they're bound to resonate with any girl.
Why you should read it: Until I saw Ali in Always Be My Maybe on Netflix, this was a book I didn't know I needed. Now, I know better. And, since I'm all about lifting up women's voices, it only makes sense that Ali's feminist-inspired book on making a career in a male-dominated field (among other things, of course) would make my reading list for 2020!
11. Such a Fun Age by Kiley Reid
Written for a digital world, the soon-to-be-released novel Such a Fun Age tells the story of Alix Chamberlain, a blogger-turned-personal-brand, whose babysitter Emira is accused of kidnapping her child. Alix swoops in to "save" Emira, without fully understanding what she's getting herself into. The book explores issues of race, class, money and privilege, all while following the lives of two compelling female characters.
Why you should read it: One of the best quotes on this book says that it "satirizes the white pursuit of wokeness." As a white person, I strongly feel that this is a book that should be on all of our reading lists. Besides its racial overtones, however, it's also a book by a woman with two strong female characters as the driving force, which is something I think we can all get behind.
12. The Right Swipe by Alisha Rai
Rhiannon Hunter helped modernize romance for the digital world with her dating app Crush — but her real love life? Not so simple…. especially once Samson Lima, a former pro-football player, enters her life. After ghosting her, Samson surfaces again by chance, in league with Rhiannon's business rival Matchmaker. Will she be willing to risk her heart?
Why you should read it: After you finish Such a Fun Age, you're going to be ready for a lighter option — and The Right Swipe fits the bill. However, this book still doesn't skimp on important issues, like the intricacies of modern dating in the online age. Plus, it's written by a woman of color and driven by a protagonist who's also a woman of color — so, talk about elevating marginalized voices!